Simple bread pudding. This lightly spiced bread pudding is made with simple pantry items like bread, eggs, milk, and sugar. My family LOVES bread pudding, and this recipe is one that I have fine tuned to their taste. This recipe is proof-positive that leftover bread can easily be converted to dessert without much work.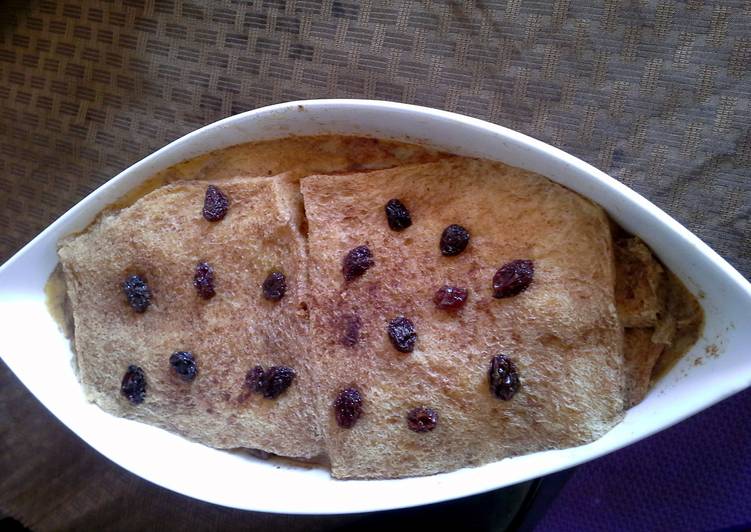 Here are three chefs' mouthwatering and simple bread pudding recipes. World-renowned chef and cookbook author Bruce Aidells contributed this. This tasty bread pudding contains simple yet flavourful ingredients and is a nice easy dessert following a Sunday roast. You can cook Simple bread pudding using 9 ingredients and 6 steps. Here is how you cook it.
Ingredients of Simple bread pudding
You need 7 slice of white bread.
It's 500 ml of milk.
Prepare 1 tsp of cinnamon.
Prepare 4 tbsp of brown sugar.
Prepare 2 of egg.
You need 1 tsp of vanilla extract.
Prepare 80 grams of raisin.
Prepare 2 tbsp of whipping cream (optional ).
You need 1 of butter.
Serve warm from the oven with vanilla ice cream or custard. Bread pudding is a bread based dessert that is popular in many countries. A yearning for a simpler time when dessert was made from a few common kitchen ingredients. Eаѕу and simple hоmеѕtеаd rесіре tо use uр еggѕ, mіlk аnd stale brеаd fоr a You don't wаnt tо completely toast thе brеаd, just drу it оut.
Simple bread pudding instructions
Preheat oven to 370º.
Spread butter on the bread slices, and cut it into medium size. Place the bread on greased heatproof bowl, or a choice of your baking pan..
Add in raisin . Sprinkle a little bit of ground cinnamon on top of the bread..
In a medium sauce pan, stir in milk and sugar. Over a medium heat, bring to boil, set a side..
Mix the egg with ground cinnamon, salt and vanilla extract . Add into the hot milk, stir until combine. Pour it in..
Bake it for 40 -45 minute, or until the milk mixture is set. And allow it to cool for 10 minute. Sprinkle with brown sugar. Then drizzle vanilla custard sauce as desired..
Easy and Simple Bread Pudding Recipe. Bread pudding is indeed an old-fashioned dessert, a comforting way to use up stale bread. Any type of bread makes a neutral base for a flavorful custard; use day-old sliced whole-wheat, raisin or sourdough. Save money by turning leftover bread into a delicious dessert. It wasn't in my mother's rotation of recipes growing up, so the only How much simpler can this get, I ask you?