Real Peach Cobbler.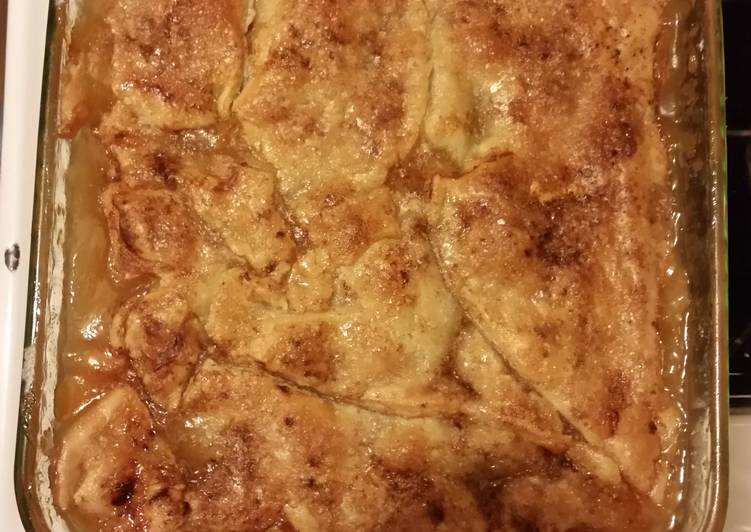 You can cook Real Peach Cobbler using 7 ingredients and 5 steps. Here is how you achieve it.
Ingredients of Real Peach Cobbler
It's 12 of Fresh Peaches peeled and sliced. (or 4 cans of freestone or 2 large cans or 2 bags of frozen-thawed].
It's 1 1/2 cup of sugar or to taste.
Prepare 1/4 cup of cornstarch.
Prepare 2 tsp of cinnamon.
You need 1/2 tsp of pure almond extract.
Prepare 1 stick of butter.
It's 1 of pie crust of choice...pre-made boxed [both rolls] or your favorite double crust pie receipe.
Real Peach Cobbler instructions
Set oven to 400°and butter a glass 9 x 13 pan. Place 1 roll or 1/2 dough in bottom and up sides. Poke holes with fork and bake for 10 min..
While crust is baking, mix prepared peaches with sugar, cinnamon, almond and cornstarch..
After pre baking crust, poor peach mixture onto crust. Dot top with pats of butter. Roll out other crust and tear or cut to cover entire top of mixture as much as possible..
Spread top of crust with additional softened butter and sprinkle with additional cinnamon and sugar..
Bake for 60 to 75 min or until desired doneness - best browned and crisp. Cool a bit and serve warm with or without ice cream or whipped cream. Husband likes it warm...I like it best cold!.