Southern Peach Cobbler from scratch.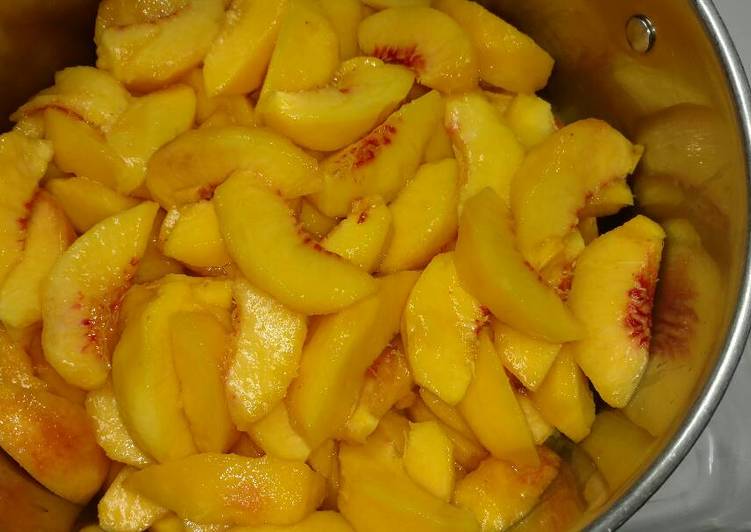 You can cook Southern Peach Cobbler from scratch using 18 ingredients and 17 steps. Here is how you achieve it.
Ingredients of Southern Peach Cobbler from scratch
Prepare of For the crust.
Prepare 2 1/2 cups of all-purpose flour plus more for shaping and rolling.
You need 1 tablespoon of sugar.
You need 1/2 teaspoon of salt.
It's 12 tablespoons of cold unsalted butter, cut into small pieces.
Prepare 4-6 tablespoons of ice water.
You need of For the filling.
You need 10-12 of ripe peaches, peeled pitted and sliced 1/2 inch thick.
It's 4 tablespoons of unsalted butter.
Prepare 1/2 cup of white sugar plus more for sprinkling.
It's 1/2 cup of light brown sugar.
You need 1 cup of water.
It's 1/4 teaspoon of cinnamon.
Prepare of juice of fresh lemon.
Prepare pinch of kosher salt.
Prepare 3 tablespoons of all-purpose flour.
You need 2 teaspoons of vanilla extract.
It's 2 tablespoons of heavy cream.
Southern Peach Cobbler from scratch step by step
Crust- Place flour, sugar, and salt into food processor and process for 5 seconds.
Add butter and process until the mixture resembles coarse meal.
Add ice water a few tablespoons at a time, until the dough just comes together.
Remove dough and knead lightly on a lightly floured surface until it just comes together.
Form dough into a disk and wrap with plastic wrap.
Refrigerate for at least 30 minutes.
Peach Filling- Squeeze lemon juice over sliced peaches, toss and set aside.
Melt butter in a large pan over medium heat and add the sugars and water and cook till dissolved.
Add cinnamon, salt, peaches, and flour, stir and cook for 10 minutes.
Take off heat and add 2 teaspoons vanilla and stir.
Preheat oven to 375 degrees F.
When dough is chilled remove from fridge and roll out to 1/4 inch thick.
Place peach mixture into a 13x9 buttered, glass baking dish and place the dish onto a baking sheet to protect your oven from any juices that spill over.
Place dough on top of peach mixture, brush the top with heavy cream and sprinkle with sugar also cut some slits to let out steam.
Bake until golden brown and juices are bubbly.
Let cool at least 30 minutes before serving......ENJOY !!! 😋.
You can substitute cooking spray for the bottom of the dish instead of butter !! 😋.